New Hyundai Ioniq in Sussex, NJ
The Hyundai Ioniq and Ioniq Plug-In Hybrid Are Here in Sussex
For drivers who are looking to find a standout sedan that gives them standout fuel economy in a number of different hybrid options along with a wide range of technology and safety choices that are desirable for any modern driver, you can come in and take a closer look at both the Hyundai Ioniq and Ioniq Plug-In Hybrid here at Franklin Sussex Hyundai where you'll be able to explore all the standout quality and features and see how these options are the right choice for you.
Explore Your Hybrid Options
The Hyundai Ioniq is able to provide you with a hybrid powertrain that uses a gas engine and electric motor to offer standout performance via regenerative braking. You'll find a 149-horsepower engine and up to 59 miles per gallon on the highway, which leads the way over many other hybrids from competitors on the market.
If you'd like a hybrid but would like to have an option that gives you an all-electric driving range, choose the Hyundai Ioniq Plug-In Hybrid. This gives you around 29 miles of battery-only driving and offers a total driving range of about 630 miles with the gas-electric combination meaning there's plenty of driving between fill ups at the gas pump, and you can charge your battery at public stations, fast charging stations, or utilize a home setup.
Performance and Drive Quality
Both the Hyundai Ioniq and Ioniq Plug-In Hybrid give you a six-speed dual-clutch automatic transmission which is able to hold its own on many roads and byways, while maintaining a firm grip too. It's stable and competent to give you plenty of comfort and oomph where you need it when driving on the turnpike or Garden State too.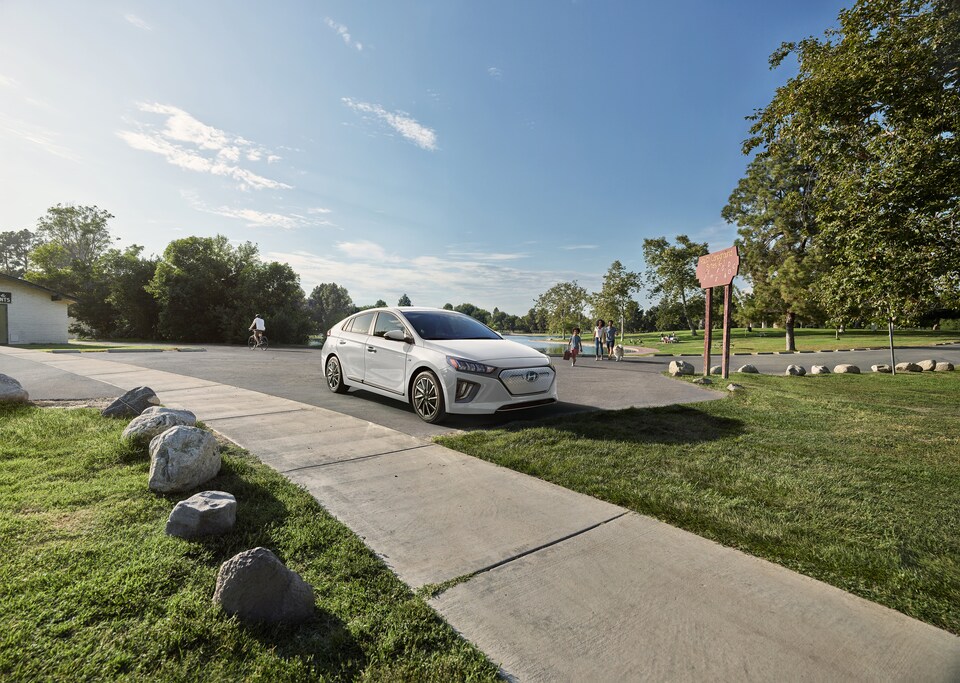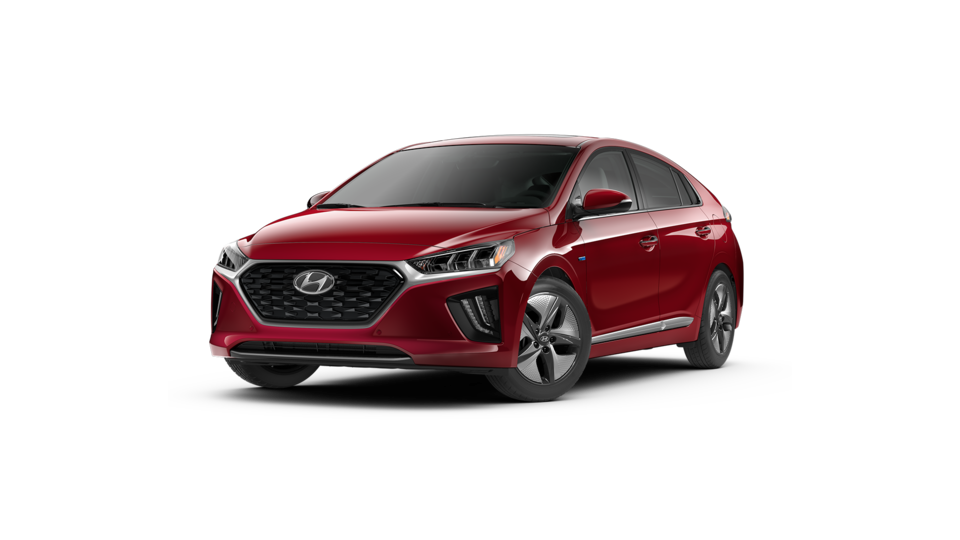 Interior Space and Versatility
Inside both the Ioniq and Ioniq Plug-In Hybrid, you're going to find it's plenty spacious, and gives you a comfortable fit for you and your passengers. You're able to also find that it is able to fit in more cargo such as luggage, groceries and shopping items, and that there's innovative and easy storage throughout the cabin so you can maximize the space you have onboard and in the trunk. There's also plenty of convenience too with a sunroof among your available options and easy access via push button start too.
Onboard Technology
With the Ioniq lineup of vehicles here in our showroom you're going to find that there's a standard eight-inch display and optional 10.25-inch option which includes navigation. You can utilize Android Auto™ and Apple CarPlay® for smartphone integration and find a wireless charging pad onboard too so you never run out of battery for your device on the simple and easy to use display.
Safety Features
The Hyundai Ioniq and Ioniq Plug-In Hybrid give you ample safety options which includes Hyundai SmartSense and standard features like forward collision-avoidance assist, along with other safety features such as lane departure warning and blind-spot monitoring. Both vehicles were named IIHS Top Safety Picks too meaning they have attained high marks for safety in crash tests and overall quality.
Hyundai Santa Fe Performance
Any destination on your errands list will feel like an exciting place to go when driving one of the new Hyundai Santa Fe models at our dealership around Port Jervis, NJ. A base Santa Fe will come with a 2.5-liter four-cylinder engine that puts out up to 191 horsepower and 181 pound-feet of torque. Models with this powertrain offer exceptional gas mileage. Connected to front-wheel drive and an eight-speed automatic transmission, it can travel up to 25 mpg in the city and 28 mpg on the highway.
Newton, NJ shoppers interested in a livelier powertrain should consider the 2.5-liter, turbo four-cylinder that makes 281 horsepower and 311 pound-feet of torque. An eight-speed dual-clutch automatic transmission and front-wheel drive are standard. This powertrain gets 22 mpg in the city and 28 mpg on the highway. All-wheel drive is available for both.