The Hyundai brand continues to make waves in the field of alternative energy transportation each year. Right now, the brand has a variety of hybrids, plug-in hybrids, EVs, and one fuel cell car to choose from, all of which are available for purchase or lease at Franklin Sussex Hyundai. You can see all the latest Hyundai hybrids, plug-in hybrids, and EVs in our latest inventory here in Sussex, NJ. You can also place a custom order to find the exact trim and color you want. Let's learn more about the top alternative energy cars from Hyundai here in Sussex, NJ.
Franklin Sussex Hyundai is conveniently located less than 40 minutes outside of Goshen, NY.
Hyundai Hybrids
The Hyundai Ioniq Hybrid was one of the first green cars from Hyundai and a leading performer on the hybrid sedan market. The Ioniq shares characteristics with your average hatchback, giving it excellent cargo volume for your daily driving needs. The fuel economy of this sedan outperforms many of its contemporaries and shoppers might also enjoy the generous selection of standard safety and convenience features that come standard.
The Sonata was already a fuel efficient sedan, so making it a hybrid increased its commuter friendliness to new levels. You will appreciate the outstanding fuel economy and smooth performance of this green sedan, along with its many standard safety and technology features. The Sonata Hybrid is a spacious sedan that is both easy and fun to drive through West Milford.
The Elantra Hybrid also builds on an incredibly fuel efficient sedan with a new gas/electric hybrid performance that is both user-friendly and gas-sipping. Despite being a compact sedan, the Elantra Hybrid is a roomy choice with lots of flexibility for you and your backseat passengers.
The compact Hyundai Tucson SUV is now available as a hybrid as well. Like other Hyundai models, the Tucson offers a wide selection of standard features to enhance your safety and boost convenience on your daily commute. The Tucson Hybrid also comes fully standard with HTRAC All-Wheel-Drive giving you the best handling and wet-weather traction.
The Hyundai Santa Fe Hybrid takes the off-road-savviness, comfort, and versatility of this SUV and translates it into a green performer. The Santa Fe Hybrid also comes standard with HTRAC AWD and a high ground clearance, allowing you to safely traverse a variety of off-road destinations with ease.
Hyundai Plug-In Hybrids
Hyundai Ioniq Plug-In Hybrid
The Ioniq Plug-In Hybrid gives you excellent fuel economy for everyday driving and a generous amount of all-electric driving range at 29 miles. This PHEV also includes regenerative braking, allowing you to recover some battery charge each time you hit the brakes. The Ioniq Plug-In Hybrid has a total gas/electric driving range of up to 620 miles and it is eligible for HOV carpool lanes, even if you ride solo.
Tucson Plug-In Hybrid
The Tucson Plug-In Hybrid goes well above and beyond the average subcompact crossover, driving up to 33 miles on EV performance alone. Like other PHEVs from Hyundai, the Tucson Plug-In Hybrid includes standard regenerative braking, HTRAC AWD, and is eligible for HOV carpool lanes.
Santa Fe Plug-In Hybrid
The Hyundai Santa Fe Hybrid offers excellent fuel economy, up to 30 miles of all-electric driving, and standard HTRAC AWD for excellent off-road capability. This PHEV crossover also features a number of standard technology and driver assist features, including Hyundai's exclusive feature, Remote Smart Parking Assist.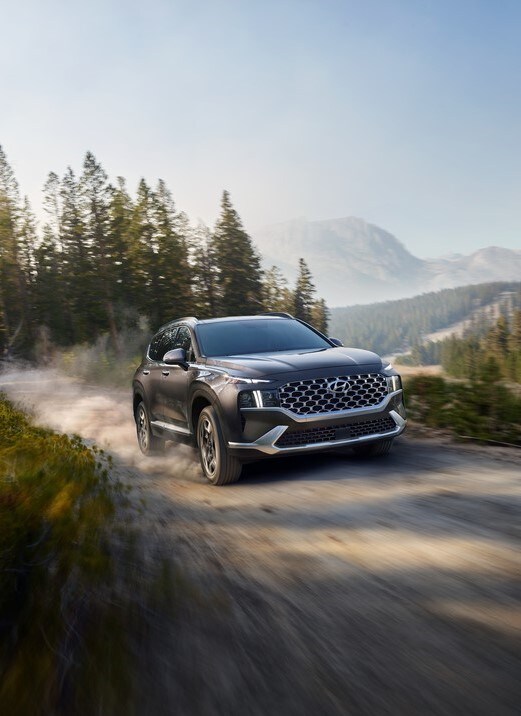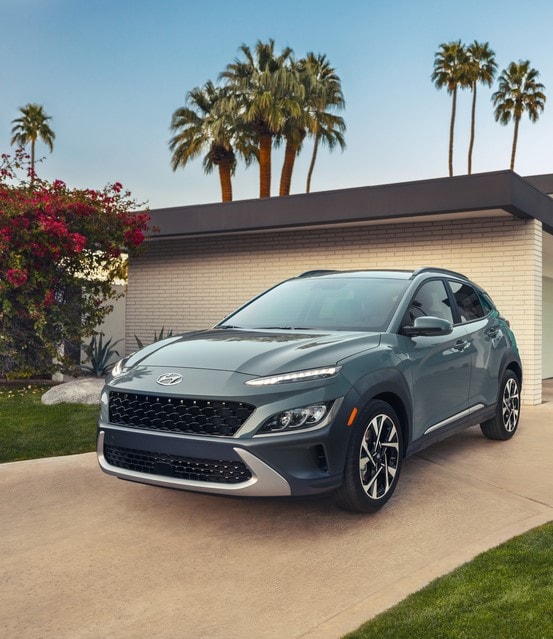 Hyundai EVs
Wherever you want to go, the Hyundai IONIQ 5 will get you there. This thrilling vehicle features a reliable 77.4 kilowatt-per-hour battery back that supports a 303-mile all-electric range and up to 320 horsepower. When you take this car off our lot, you'll also have a wide range of electric charging options. With the 400-volt DC charger, you can reach an 80% charge in just 25 minutes, and with the all-powerful 800-volt DC charger, you'll be able to accomplish an 80% charge in a short 18 minutes.
The Hyundai IONIQ 5 isn't just an electric powerhouse - it's also quite the looker. With sleek power-folding side mirrors, sophisticated grille shutters, flush door handles, and more, you'll turn heads every time you hit the road in your new car. And believe it or not, the interior of the Hyundai IONIQ 5 is just as impressive as its exterior. When you step inside, you'll find an ergonomic new dashboard design, an available power outlet, and more. Try it out for yourself in the Newton, NJ area today and see what all the fuss is about.
When you take the Hyundai IONIQ 6 out on the road, you'll be nothing short of unstoppable. This vehicle comes armed with a robust 77.4 kilowatt-per-hour battery pack that boasts up to 320 horsepower and 446 pounds-feet of torque on a lightning-fast charge. And if you're worried about running out of juice, don't be - the Hyundai IONIQ 6 not only comes with an all-electric range of up to 361 miles, but Hyundai also offers a 10-year battery warranty, plus two whole years of complimentary 30-minute charging sessions with Electrify America.
Staying connected while on the go is a must, and with the Hyundai IONIQ 6, for sale near Sussex today, you'll have everything you need at the tip of your fingers. State-of-the-art technological features include crystal-clear dual 12.3-inch display screens, automatic over-the-air updates, Apple CarPlay compatibility, voice-recognition technology, and much more.
Hyundai Ioniq Electric
If you're looking for s stylish and practical electric car, the Ioniq electric is an excellent choice. This sedan offers a lot of cargo volume with a motor that wisely uses electric performance. The Ioniq Electric has a range of up to 173 miles with home charging and fast charging capabilities.
The Kona Electric is a versatile EV choice with up to 258 miles of range. Like the standard Kona crossover, the EV version has a peppy acceleration and excellent handling, making it a fun choice to drive on the streets in Newton, NJ. Despite its size as a subcompact, the Kona contains a generous amount of space for passengers, with lots of standard features.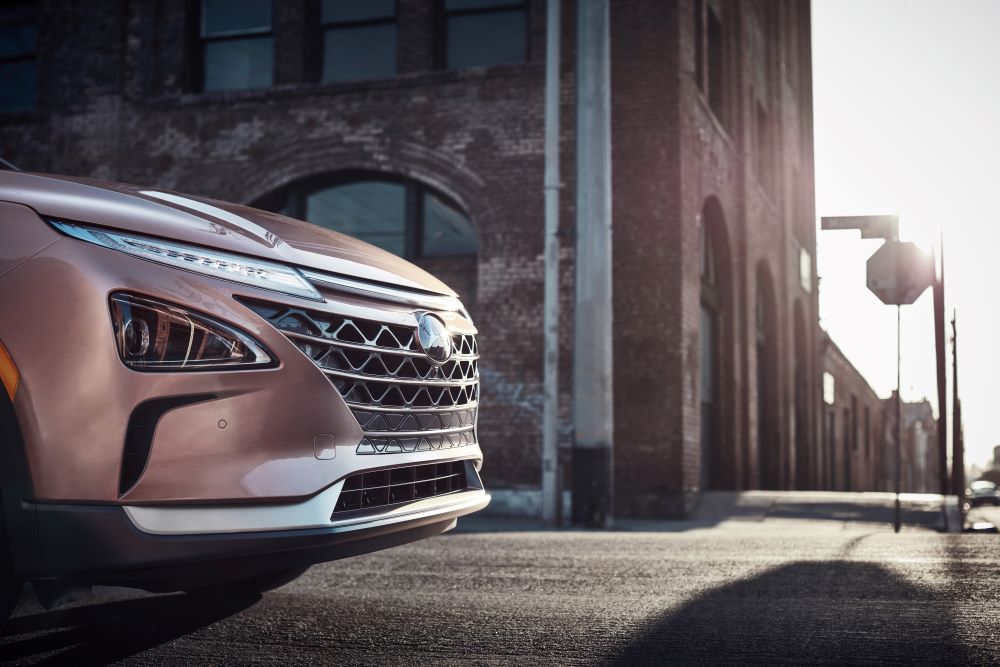 Hyundai Fuel Cell
Hyundai NEXO
With a 120-kilowatt engine that effortlessly cranks out 161 horsepower and supports up to 320 miles of all-electric driving range, there is virtually nothing that the Hyundai NEXO can't handle. And to make the electric driving experience even more of a breeze, Hyundai is offering all-new NEXO cards to everyone who brings home one of these vehicles, which provide up to $15,000 worth of charging vouchers. Visit our dealership near Port Jervis, NJ today to learn how you can enjoy this exciting perk.
The Hyundai NEXO also comes in two different trim levels, each with different features and specifications. The Hyundai NEXO Blue comes with the best range at a staggering 380 miles. Other features include a blind-spot information center, a high-definition 12.3-inch touchscreen display, and a hydrogen fuel cell. The premium Hyundai NEXO Limited trim takes it a step further, offering striking 19-inch wheels, parking assist technology, a sweeping power tile-and-slide sunroof, and much more. Discover which trim is right for you in the Goshen, NY area.
Find Your Hyundai Today
We invite you to visit us at Franklin Sussex Hyundai to learn more about our green inventory and your best options for financing one of these fuel efficient choices. Schedule a test drive and visit us today in Sussex, NJ to learn more!